How to sell courses and products as subscriptions
How to sell courses and physical products as subscriptions
---
Video instructions
Step 1: Create selling plan group
Step 2: Add products to selling plan group
Products that are added to a selling plan group will be available on subscriptions basis
And a subscription option will be available on the store front as shown below.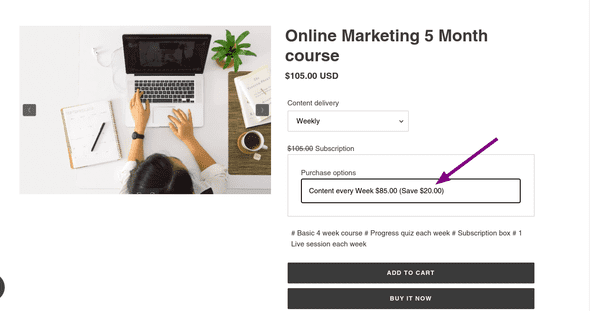 You can select multiple products. These products are now linked to this selling plan.
Head over to the store view and see the subscription option now available for the products you selected.
Incase the subscription option is not available on the product, that means that the selling plan snippet was not properly installed. Review Install subscription on theme 2.0 or on legacy themes according to your theme type. Contact suppor for further assistance.
Step 3: Add courses to selling plan group
If you'd like your customers to have access to a course digital content when they purchase this subscription (selling plan), you need to link the courses to this selling plan group as shown below.